DISCONTINUED Replaced by Falcon Rotator v2
The Falcon Rotator is a camera field rotator that impresses with its lightweight, low-profile design. Despite its slim profile, it possesses the remarkable capability to effortlessly manage and accurately position even heavy image trains.
Operating the Falcon Rotator is a seamless experience, thanks to its compatibility with ASCOM drivers and the Unity Platform software. This user-friendly design simplifies the process of automatically and precisely orienting your camera field, making your astrophotography endeavors significantly more convenient and efficient.
Precise rotation
A powerful geared / low backlash, quiet stepper motor ensures that the rotator will precisely lock to the designated degrees. Mechanics inside the focuser guarantee zero flex at any point during a full circle rotation.
Low profile
Thickness of the rotator is 18mm / 0.7". When you use the M54 to M48 adapter the backfocus is +1mm (18+1 = 19mm) Weight is 700grams. Both openings of the rotator are M54 threaded (pitch 0.75mm)
Rated load
Falcon Rotator has been tested at 6Kg / 13.2lbs of imaging setup. The sophisticated mechanical design that uses 6 stainless steel bearings can easily handle high payloads with nearly zero flexure.
Adapters for both sides (included)
We provide (in the box) two different adapters for both sides:
Telescope Side: M54 male to 2" Nosepiece (1.5mm thickness)
Camera Side: M54 Male to M48 Male Adapter (2.0mm thickness)
For optional adapters click here
The M54 adapter black ring on the camera side of the Falcon Rotator sticks out by almost 1mm (so actual back-focus is 18+1 =19mm)
Backfocus drawing can be found on the left (click for enlarge):
De-Rotation support for Alt/Az mounts
Rotator has the mechanical precision to achieve field de-rotation. Supplied software calculates Rate of Rotation (RoR) based on the site latitude, target altitude and azimuth position.
Examples of images taken with Falcon Rotator & Derotation on a Dobsonian Telescope
https://www.astrobin.com/iejxza
Testing Falcon Rotator from Pegasus Astro
Falcon Rotator / An In-Depth Review
You can watch this detailed review from one of our customers
Why camera ROTATORS are AWESOME for astrophotography! – Featuring Pegasus Astro Falcon Rotator
You can watch this detailed review from one of our customers
ASCOM 6 Fully supported

Rotator fully supports latest ASCOM 6.5.
Pegasus Astro Unity Platform is our new all around application. Our goal is to provide a robust and modern application that is going to support current and future products under one roof.
A modern frontend allows the full control of all Pegasus Astro devices.
Moreover, a REST JSON api helps developers from 3rd party software to interact with our products.
As we continuously develop our applications, based on customer feedback, lots of innovative features are going to be added in upcoming releases.
Physical Size
180mm x 140mm x 56mm
Material
Blue Anodised Aluminium
Clear Aperture
54mm / 2.13"
Steps per degree
86.6 steps per degree (31.192 steps per full revolution)
(full step drive – can be increased with microstepping)
Payload
6Kg / 13.2lbs
Telescope Adapter
M54 male to 2" Nosepiece (included) (0.75mm pitch)
Camera Adapter
M54 Male to M48 Male Adapter (included) (0.75mm pitch)
Back Focus
18mm / 0.7" (+1mm if you place M54 adapter)
Weight
0.7Kg / 1.54 lbs)
Connectivity
USB 2.0
Operating Power
12V / 1Amp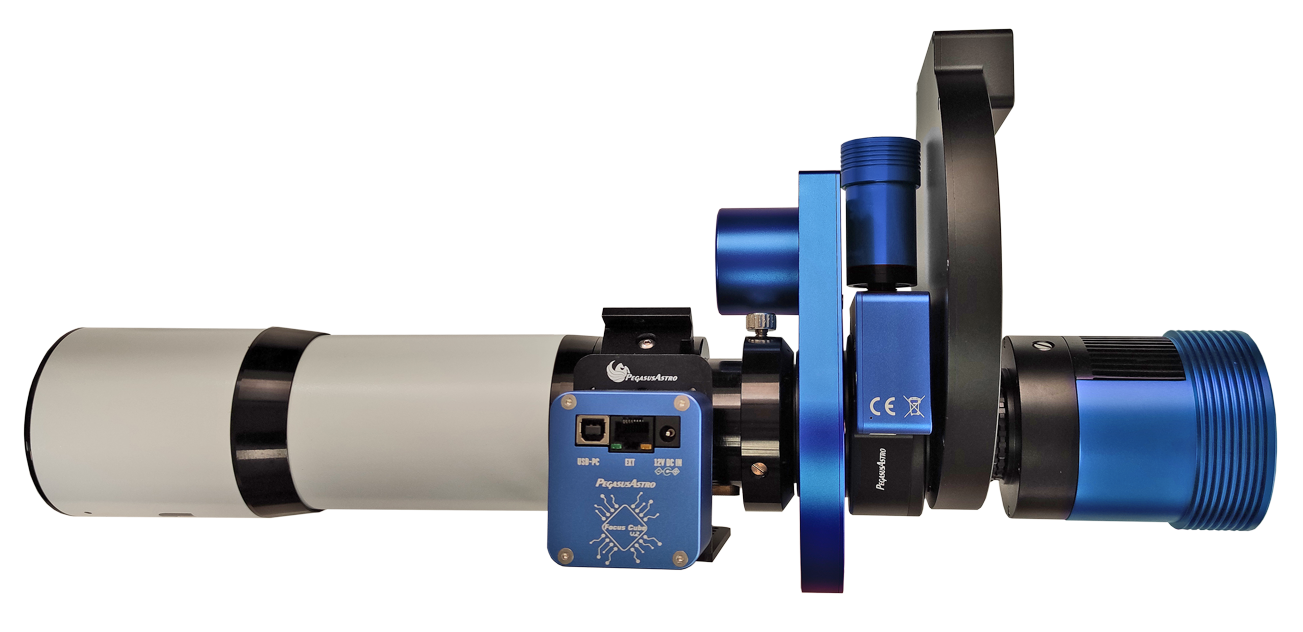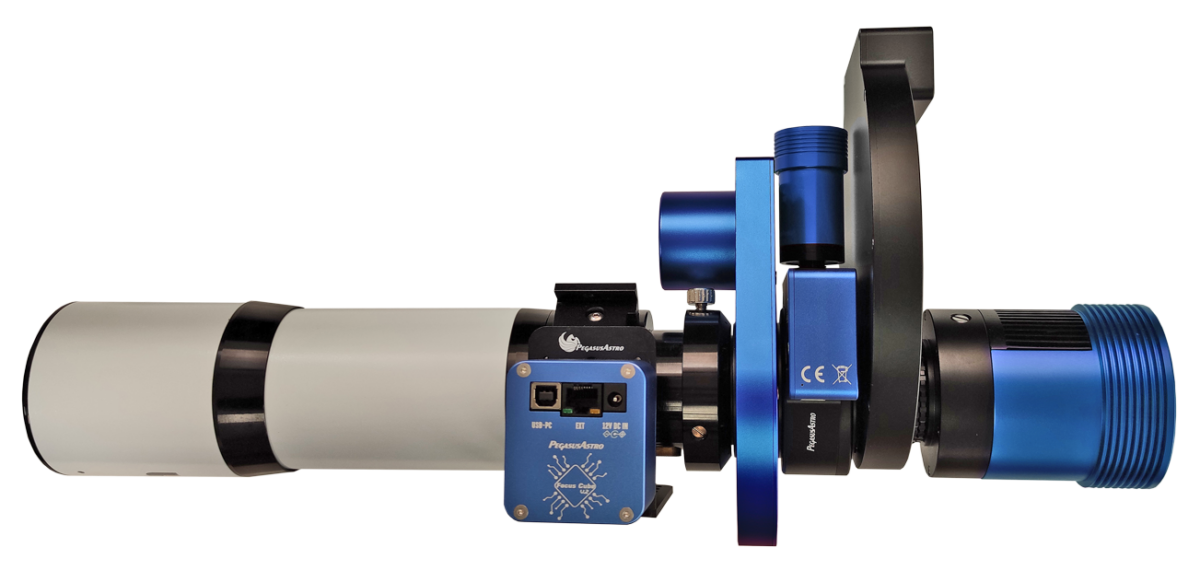 An ED65 refractor example with the FocusCube v2, Falcon Rotator and Scops OAG