Motor Focus Kit Zero (For SCTs)
A must have for successful astrophotography sessions
Focus accurately and fast your Celestron SCT telescope using our powerful Motor Focus Kit Zero. This fast and zero backlash stepper motor has the required torque to focus your SCT telescope with great precision.
Pulley and Belt design allows the motor to stay away from your filter wheel (and not collide with it) when you use a focal reducer. Its sophisticated SCT bracket design (margarita style) can fit all new Celestron SCTs (Classic / Edge) and RASA series.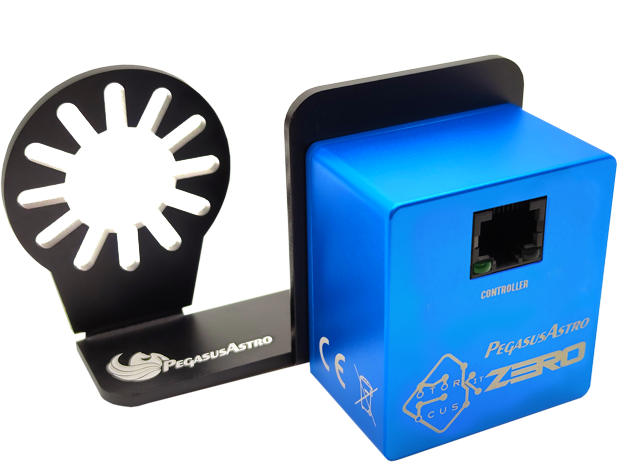 Motor Focus Kit SCT has been replaced by the Motor Focus Kit Zero.
Zero allows backlash free movement and is way faster than older motor
Zero backlash stepper motor
The embedded bipolar stepper motor provides a zero-backlash drive. The motor is very fast and allows you to quickly move from any focus point to another.
A special shaped black anodised aluminium bracket, hard to bend, can be attached to most of the Celestron SCT telescopes.
We have successfully installed it on:
Celestron Classic & EdgeHD 6, 8, 9.25 (SKU:PEG-FCZERO-SCT68925)
Celestron Classic & Edge HD 11 (SKU:PEG-FCZERO-SCT11)
Celestron Classic & Edge HD 14 (SKU:PEG-FCZERO-SCT14)
Celestron RASA 8" (SKU: PEG-FCZERO-SCT68925)
Cellestron RASA 11" (V2 – For V1 you will need Celestron Retrofit Kit) (SKU:PEG-FCZERO-SCT11)
Celestron RASA 14" (SKU:PEG-FCZERO-SCT14)
Please notice that we provide three different SCT versions.
The difference is in the metal pulley bore diameter & the screw length in the package.
Please make sure you have selected the correct type for your telescope.
Please note that some older SCT series are not compatible with the SCT bracket so contact us with a photo of your telescope focuser if you are not certain that your telescope can accept the SCT bracket.
SCT Bracket was designed to support Celestron SCT Telescopes. Although, we have seen that it perfectly fits on Meade SCT telescopes that have the round focus knob. Please check the image if your Meade Telescope is the same as the photo's.
For more information please contact us.
1 x Motor Focus Kit Zero
1 x Black Aluminium Anodised Margarita Bracket for Celestron SCT Telescopes
1 x Timing Belt
1 x 13 mm bore size of Pulley GT2 (6",8",9.25") or 22mm bore size of Pulley GT2 (11" ,14" Celestron)
4 x M3x6mm length screws (to attach the enclosure on the bracket)
3 x metric screws and 3 x plastic washers
Type
Value
Motor Specs
Bipolar Stepper Motor
Zero Backlash
Sep Angle: 1.8 deg
Hold Torque: 0.8Kg/cm
Detent Torque: 0.18Kg/cm
Dimensions
(enclosure only)
52 mm x 58 mm x 35 mm
Weight (including bracket)
280g
Operating Temperature
-40 °C to +80 °C