Dual Motor Focus Controller
Focus fast, reliable , and accurate your telescope using a stepper or DC motor and our controller.
Version3: Same features, more powerful motor outputs, in a very compact size!
Dual Motor Focus brings a decade of experience in astrophotography and telescope focusing concepts. The evolution of technology in astronomy requires a system that will assist the focusing of the telescope with great accuracy. Fast optics and modern camera devices require automatic focusing in every small period as the temperature can affect the focal length and modify the optimal focus position. Pegasus Dual Motor Focus Controller (DMFC) has been developed to meet these requirements.
Hint: You can bond the controller with our Motor Focus Kit Universal or Motor Focus Kit Zero
Watch a Review by AstroBackyard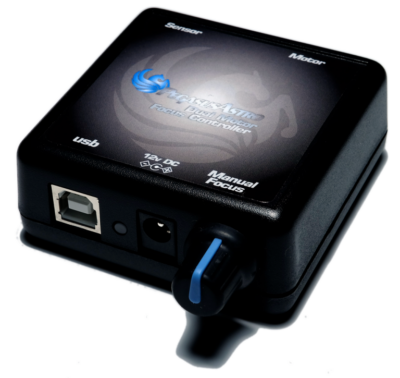 Dual mode
The Dual Motor Focus Controller supports two kinds of motor types:
High-Resolution Stepper motors (unipolar and bipolar) for absolute position focusing.

DC motors by its Pulse Width Modulation duty cycle control.
The controller can switch motor mode from its software, Mode can be instantly changed (with one mouse click) from 'stepper' to 'dc' motor and saved in the controller's EEPROM memory.
Manual and PC operation.
The controller can be operated by PC using its USB2 connectivity. A manual operation by utilising the digital encoder on the side of the controller simulates the knob of your real focuser. Turn the knob as it is the knob of your telescope's focuser. If you press it, speed of the motor will be reduced to 1:10.
Dual Colour Indicator
A dual colour light emitted diode (Green / Yellow) is fitted on the side of the unit. Each colour indicates speed and the led can be turned on or off by its software during an observing session. Keep it pressed to disable the knob.
Backlash Compensation
Controller can compensate the backlash you might encounter in your system. Although our motor has very low backlash other setups might need this feature. Backlash compensation is supported from a function inside controller's firmware.
Temperature Probe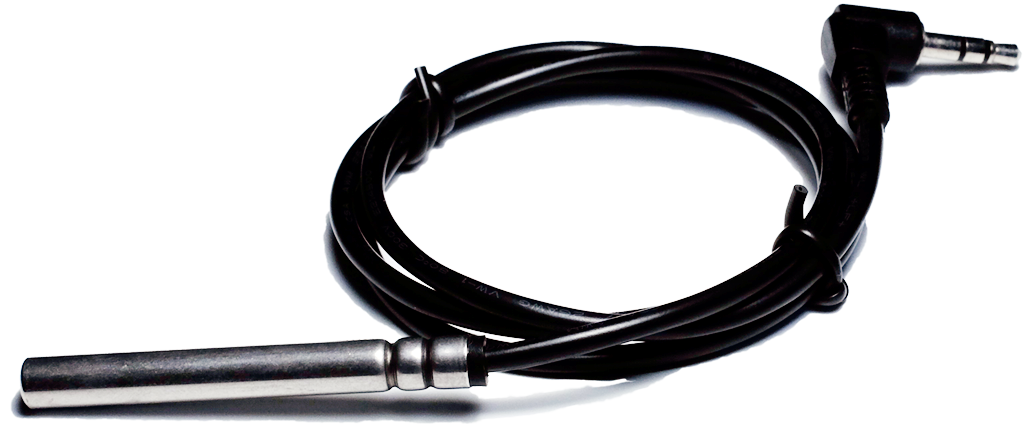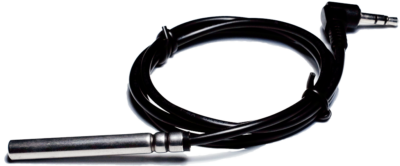 An external digital temperature sensor input is located near the motor connector. A digital probe of one (1) meter length is supplied. The probe can be placed near the focuser so the exact temperature of the focuser/environment can be seen through the supplied software or ASCOM driver (probe is included in the package)
INDI (Open Astronomy Instrumentation) supported
Standalone program available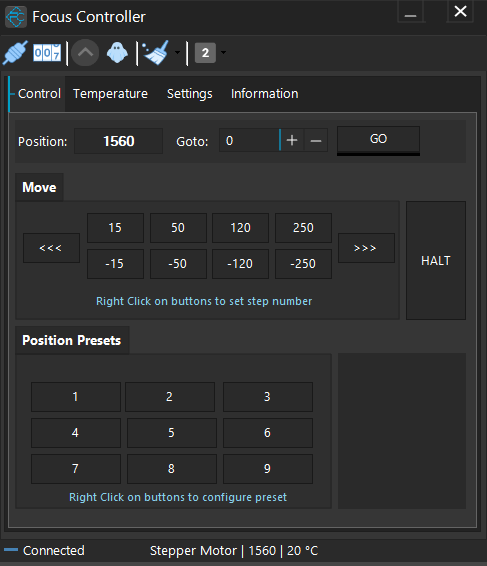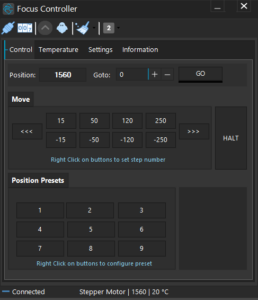 Firmware upgrade support
Firmware supports re-programming via the USB 2.0 connection using upgrade software ((only available for Windows), for future upgrades which may become available. We constantly receive feedback from our customers and keep updating the firmware and software with new features.
Supported Motors
We have successfully tested and controlled the following stepper motors:
Please note that each motor requires its own cable due to different pin-out selection of each manufacturer. * We optionally provide any of these cables. Check cable type SKU at below table.
| STEPPER MOTOR | CABLE TYPE (SKU) |
| --- | --- |
| Pegasus Motor Focus (v1 & v2) | Straight RJ45 Network Cable |
| Starlight HSM 25 / 30 / 35 | PEG-CMOT-HSM |
| Starlight MSM 25 / 30 / 35 | PEG-CMOT-MSM |
| Starizona Micro-Touch | PEG-CMOT-MSM |
| Rigel nStep Motors | PEG-CMOT-MSM |
| Moonlite Stepper Motor | PEG-CMOT-RJ45DB9 |
| Robofocus Stepper Motor | PEG-CMOT-RJ45DB9 |
| Lakeside Stepper Motor | PEG-CMOT-RJ45DB9 |
| Lacerta Motor | PEG-CMOT-LCRT |
In the Box
1 x Dual Motor Focus Controller
1 x Temperature Sensor (0.6m)
1 x USB type B Cable (1.8m)
Technical Specification
Type
Value
Supply Voltage
12Volt DC (Can accept 5V for 5V motors)
Motor Compatibility
DC motor – adjustable frequency PWM
Unipolar stepper motors
Bipolar stepper motors
Motor Output
DC motor, max 1 Amp
Unipolar / stepper motors, max 2.0 Amps (1.0 Amps per phase)Continuous output current per channel: 1 A
Peak output current per channel: 3 A
Continuous paralleled output current: 2 A
USB Connectivity
USB 2.0 Type B plug
Thermal Sensor Resolution
9-bit Celsius temperature measurements
Power Input Connector
2.1mm Centre Positive Socket
Motor Connector
RJ45
Dimensions
66mm x 66mm x 28 mm
Weight (including bracket)
280g