USB Control Hub
Lack of a trusty USB3.1 Hub in astrophotography market, triggered us to develop a USB3 Hub controller which will be also able to switch ON/OFF each USB port.
We proudly present the Pegasus Astro – USB Control Hub
(in short UCH):
A SuperSpeed (SS), low power, switchable USB3.1 Gen1 hub and fully compliant with USB-IF's USB 3.1 Gen1 specification . The Hub supports Hi-Speed (HS), Full Speed (FS) and Low Speed (LS). The new SuperSpeed hubs operate in parallel with the USB 2.0 controller, so 5 Gbps SuperSpeed data transfers are not affected by slower USB 2.0 traffic.
6 x USB 3.1
Powered Ports
Industrial grade
Temperature support
The device has 6 x USB 3.1 Ports. All ports are backward compatible with USB 1.0 and USB 2.0 devices.
Each port can deliver up to 2.5Amps of current. There is a smart current limit sensor in every port which automatically limits or cuts power in case of a short-wire or power consumption that is above 2.5Amps.
Each port is monitored by the USB Controller and in case of a current limit, it triggers a warning pop up in the operating system.
Industrial grade temperature support
Most USB Hubs in the market (well…nearly all of them) operate under room temperatures as they were design to work inside your cosy warm room. This is one of the reasons why you experience USB disconnects and instability during a cold night.
Our product is certified to work flawlessly from −40°C to +85°C. All USB Hub electronics has been selected to support Industrial grade temperature ranges.
Aluminium Enclosure
A high quality robust, blue anodised aluminium enclosure houses the electronics of the USB Hub. The metal enclosure designed and tested to survive ±5kV ESD strikes
Switchable USB Ports
Each USB port can be controlled and switched ON/OFF by our standalone software. (power + data). You are going to love this feature. No more pull out and re-plug USB cables of your equipment.
12V DC Operation
The 12V DC operation was our first design requirement. As most of your astro-equipment requires 12V DC why to use something different? Hub accepts 12-14V of operation. This means that you can plug unregulated 12V power from a battery.
Expansion Port (EXT)
A RJ12 external ports allows future device expansion
ASCOM 6

Device fully supports ASCOM switch. This means that you can switch ON/OFF each USB port via ASCOM supported software.
INDI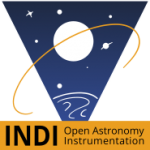 USb Control Hub is fully supported by Indilib framework
Pegasus Astro Unity Platform is our new all around application. Our goal is to provide a robust and modern application that is going to support current and future products under one roof.
A modern frontend allows the full control of all Pegasus Astro devices.
Moreover, a REST JSON api helps developers from 3rd party software to interact with our products.
As we continuously develop our applications, based on customer feedback, lots of innovative features are going to be added in upcoming releases.
USB Ports
Six downstream USB3.1 Gen1/2.0 ports
USB Switchable Ports
USB1-6. Switch ON/OFF Power & Data (each port can be switched individually)
DC Input
12-14V DC
Amperage on individual port
2.5 Amps each
Maximum Total Amperage:
8 Amps
Operating Temperature
Industrial grade temperature support
(−40°C to +85°C)
Size
100mm x 72mm x 24mm / 3.9" x 2.8" x 0.94"
Weight
200g / 7 oz
Power requirements
2-10Amps (depends on the devices you are going to plug into USB ports and their power consumption)
Why should I get this HUB when I can buy similar 7 or even 10 port hubs on Amazon for around $50
admin
2022-04-25T10:15:40+02:00
A good question so please pay attention to below bullet points: to fully understand what our USB Hub can offer.
Each port delivers up to 2.5Amps of current. Other hubs cannot support that.
Switchable USB Ports. Each USB port can be controlled and switched ON/OFF by our standalone software. (power + data). Other hubs cannot do that.
UCH supports ASCOM switches. You can control the Hub from your imaging software.
Industrial grade temperature support. You will not find a hub that can operate below 0 degrees Celsius (32 Fahrenheit).Check specifications of each hub and you will see that operating temperature is between 0 and 40 degrees Celsius. All of these hubs are designed to work inside your cosy room and not on a mountain / outside where temperature can quickly drop especially during winter nights. If your hub works below this temperature it is by pure luck.

Most people will experience random USB disconnects or USB bandwidth throttling during the night. These temperatures are out of operating specs for these hubs.

UCH can achieve very high speeds to all USB ports (simultaneously) by using multiTT (Transaction translators). Cheap hubs will reduce speed when you try to simultaneously transfer data from more than 2 ports.Most hubs out there have 2 or 3 similar USB chips inside (each chip is for 4 USB ports). They use one USB port to daisy chain the chip together and you have 7 or 10 ports available. 

This means that your actual speed is limited by the uplink connection between the chips. Our hub is a real 7 port branded / automotive grade USB chip (6 ports are available / 1 is used for internal communication.

Similar Hubs costs around 500$. You can google it if you search "USB industrial programmable hub"